Dixie Lee Garson
Dixie Lee has been serving delicious chicken since 1964.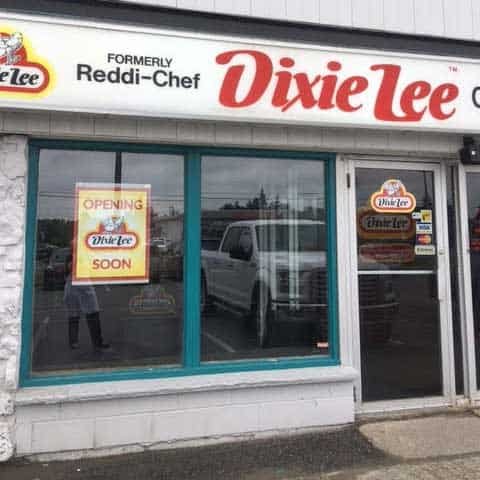 The Best Tasting Fried Chicken in Garson
Dixie Lee Garson is located in Greater Sudbury at 3060 Falconbridge Highway. Dixie Lee Fried Chicken is situated in a strip mall where there is plenty of parking, plus it is conveniently located at the Service Canada building. The fried chicken of Dixie Lee in Garson is undoubtedly famous, along with their other sumptuous meals since they attract customers of any age. Try and experience the taste of home with the best fried chicken in the town of Garson. Both locals and visitors of this beautiful town enjoy the homegrown tasty fried chicken Dixie Lee has been offering for decades now.Garson is a diverse community where everyone can enjoy both outdoor and indoor activities. And Dixie Lee never fails to contribute to the fun in Garson by serving the best tasting fried chicken and the most thrilling experience. Dixie Lee restaurant assures that the people of Garson could savor the day by dropping by at their restaurant, standing in the long stretch of Canada Trans-Highway. Discover Dixie Lee fried chicken restaurant in this historical town of Garson with bright beginnings.
How Dixie Lee and the Best Fried Chicken in Garson Began
Dixie Lee Fried Chicken Restaurant first opened in 1964 in Belleville, Ontario. The business started growing, and approximately a decade later, they were so successful that they started opening 101 take-away stores in the United States and Canada. Since then, they are actively recruiting partners and franchises throughout these two nations. Dixie Lee Garson has been a household name for serving the crispiest and juiciest fried chicken, and this tradition is defying time to continue its legacy of great-tasting chicken. Dixie Lee is a well-known fast food in Garson that continues to bring families together to enjoy a sumptuous meal. They have never disappointed their customers, which is why they keep coming back for more to appreciate the taste of premium fried chicken.
Read More
Fried Chicken and More
Aside from their famous fried chicken, Dixie Lee Garson also serves other tasty deals. They serve hand-battered fish, shrimp, refreshing wraps, french fries, potato salad, macaroni salad, and the crowd-favorite poutine. "Poutine" means making a dreadful mess where you can't simply ignore the fun of the traditional good poutine. To solve the meal, round your poutine with a soft drink, juice, or water. You will never leave their place empty and blue because Dixie Lee makes sure their guests are treated well. You will definitely receive the ever-befitting Southern kindness and hospitality that you deserve. Dixie Lee offers the full benefits of a convenient fast food fried chicken, plus the sumptuous taste of gourmet dish. They serve different types of meals from fried chicken to seafood, and provide everyone their choice of comfort food. The famous Dixie Lee menu includes different types of fried chicken cuts, sandwiches, fried shrimp, delicious side dishes, and desserts.  
Read More
Feel at Home at Dixie Lee Garson
If there is something their guests consistently say, it is about their love to serve. Dixie Lee aims to show their love for their customers through the food they serve. This makes them stand out from their competition; they do not just sell food, they serve food and love. They believe that there is no reason to skimp on anything, especially if customer satisfaction is at stake. Dixie Lee Fried Chicken Restaurant in Garson makes you feel at home. Because Garson is a friendly community, Dixie Lee understands it is their great responsibility to contribute to this culture and provide the best food that will bring people together.
Order Online