Dixie Lee Stayner
Dixie Lee has been serving delicious chicken since 1964.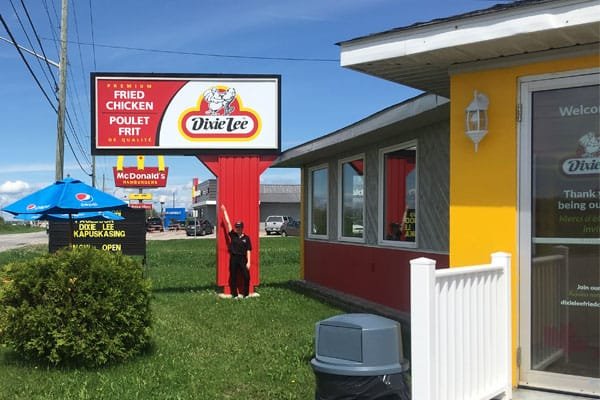 Best Tasting Fried Chicken in Stayner
Welcome to Dixie Lee Stayner! The BEST fried chicken restaurant you can find in this little town of Stayner! The friendly staff of Dixie Lee is pleased to welcome you into this peaceful community and let you experience the warmth of good food.
The rural community of Stayner brings you back to the good old life. The smell of lumber, rocky roads, autumn leaves, and rustle of wind and river waters bring you the nostalgic air. The rolling landscape is perfect for cyclists, hikers, or any outdoor lover. This humble town of Stayner offers world-class shopping, amazing events, and dining that make you feel at home.
Read More
Dixie Lee Stayner is situated in the heart of the town, directly across the street from the Canada Post. Stop in for some delicious fried chicken and fish the next time you are in the neighborhood!
Stayner's Growing Fast Food Chain
Dixie Lee is proud to have established its branch in Stayner, a community that amplifies the taste of variety. And this is the very fact why Dixie Lee is a growing fast food chain built on a perfect spot right now.
With thousands of reasons to visit Stayner, there is no reason for you to not crave for food after a busy day. You will probably drool over the zesty meals of chicken, fish, sumptuous sandwiches, and fries with Dixie Lee's home-made menu.
Building its niche in the fast food chain, Dixie Lee Stayner will never stop caring and serving its customers, wherever it could be in the world. They believe in the idea that as long as there are hungry customers, there will always be a reason to serve satisfying food to those they consider family—and that is YOU.
Fried Chicken for Decades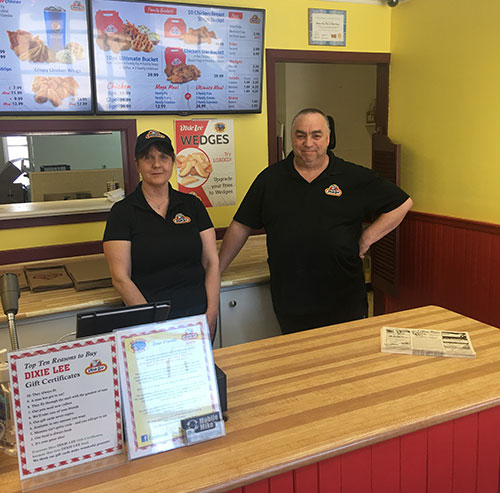 Dixie Lee has been serving crispy fried chicken to hungry families since 1964. This well-served tradition defies time as it continues to be a restaurant with great-tasting chicken. Bringing families together to enjoy a sumptuous meal, Dixie Lee has never failed to let its customers  appreciate the taste of premium fried chicken, prepared only with the finest yet pronounceable ingredients of fried chicken in town.
Young and old alike, their customers keep coming back and have grown the traditional taste in fried chicken, tossed in the most exquisite ingredients made pure by their expert cooks and deep fried in a unique frying system. They only want what is healthy for their customers, so they prepared their fried chicken crispy but non-greasy so you could enjoy the all-meat recipe, tender but loaded with flavor when it touches your palate.
Spend your day after some long leisure or work, any day from Monday to Sunday, and fill your senses and tummy at Dixie Lee Stayner.
Fried Chicken with a Blast
Rev yourself up from a tiring day. Whether you're doing business or just hanging around, Dixie Lee in Stayner is a place of refuge for the hungry guests. Go for a blast, and experience what else Dixie Lee Stayner has to offer.
Dixie Lee's friendly staff prepare chicken meals, fish, chips, and buffalo wings dusted in their famous Dixie Lee spices, tossed in a variety of sauces from mild to hot and ATOMIC–dare if you can. And dine while not worrying on prices, because they are "friendly" on that, too!
What's more, pair your favorite meal with Dixie Lee's in-house coleslaw. Who would not want to add to their hot, crispy, and delectable fried chicken meals some freshly laden strips of vegetables and creamy dressing? The freshly made coleslaw will absolutely complement your bursting day!
Read More
Feel at Home at Stayner Dixie Lee
If there is something their guests consistently say, it is about their love to serve. Their daily mantra, "we show our love through the food we serve," will always stand true and will outwit their competitors concerning their dedication to serving only the best, decades after decades, even in the midst of economic strife. Dixie Lee's management believes that there is no reason to skimp on anything, especially if customer satisfaction is at stake.
Stayner's Dixie Lee Fried Chicken Restaurant makes you feel at home. While the Stayner community is a town where anyone can be your friend and become familiar with each other, Dixie Lee Fried Chicken fast food understands, that it is worthy to invest time and effort in people who represent a close-knit community.
To each respective location, Dixie Lee's management supports hard-working local farmers, from whom their locally sourced ingredients come from. They also partner with local food banks and elementary schools. Ultimately, they love being a factor of change by shaping future generations and letting them pass their heritage and tenets of goodwill, trust, and quality;
Read More
Order Online